About Viking Ski Shop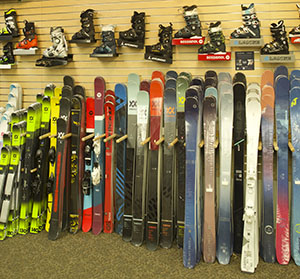 Viking Ski Shop is well-known in the Chicago region for our high-quality skis and snowboards, knowledgeable staff, and exceptional customer service. We are consistently rated among the best ski and snowboard shops in the country by the ski industry. Viking is also one of a few shops to receive special national recognition by Snowsports Industries America.
We've built our 50+ year reputation on skiing. Everyone on our staff is a skier whose main goal is to help you get the most out of the sport we all love.
Every winter we go to the slopes to places like Copper, Boyne, Mammoth, Aspen, and Vail for extensive testing. We want to make sure every item we offer you, from skis and boots to goggles and gloves, lives up to the Viking standards. This is why you can be absolutely confident that, when we advise you on gear, we're not just stating the manufacturer's claims.
This unwavering dedication to quality and customer service has created the kind of trust that keeps Viking customers, regular skiers and snowboarders alike, coming back year after year.
Whether you ski or snowboard once a year or five times a week, you will find everything you need at Viking Ski Shop. We carry a wide selection of top-rated skis and snowboards, boots, bindings, poles, goggles, helmets, and clothing. Viking also has skis and snowboards available to rent.
We have two convenient locations in the Chicago region. Our Chicago store is located at 3422 W. Fullerton Avenue, Chicago, IL 60647. Call (773) 276-1222. Our second store is located in the Northwest Suburbs at 131 W. Northwest Highway, Barrington, IL 60010. Call (847) 381-1188.
About Viking Ski Shop in Barrington
Our Barrington shop carries a full line of ski and snowboard gear during the fall and winter months. During the spring and summer months, our store is stocked with outdoor furniture for your backyard, patio, or deck. We invite you to visit us and see our beautiful collection of patio sets, umbrellas, chairs, lounges, fire tables, outdoor tables and chairs, and much more!
About Viking's Ski and Snowboard Services
We all know that after a few runs it's always good to tune-up the skis or snowboards. And you'll want to repair deep gouges as soon as possible, both for performance and aesthetic reasons. Viking offers a variety of ski and snowboard services including ski and snowboard tuning, waxing, binding installation, and repairs. Stop in and talk to one of our technicians about tuning up the boards, waxing, and repairs.
Our People Make the Difference
When there's a need and a way we can help, we're in. Events, fundraisers, our annual fall donation program -- we like to make differences in our sporting, living, and working communities.
---
Viking Ski Shop is Chicago's most respected ski and snowboards shop with locations in Barrington and Chicago, Illinois. We offer a variety of services including tune-ups, waxing, binding installation, and repairs for skis and snowboards. Viking also has one of the largest inventory of skis, snowboards, boots, bindings, helmets, and clothing for men, women, and children.
Our customers are throughout Illinois including Chicago, Barrington, Western Springs, Naperville, Arlington Heights, Wilmette, Orland Park, Lake Forest, Park Ridge, Downers Grove, Oak Park, Elmhurst, Hoffman Estates, Lake Forest, as well as regions of Wisconsin and Indiana.