Viking Ski Shop History
It's hard to believe that it has been over 50 years since Viking Ski Shop first opened in Chicago. But then, time does fly when you're having fun!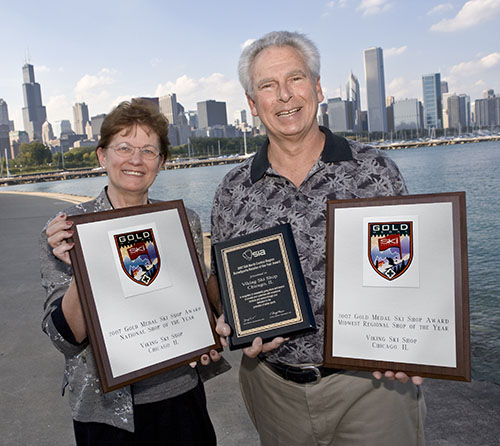 Bob Olson started skiing and working at Viking part-time when it first opened, and he just continued along. Bob and his wife, Carol, purchased the store from the original owner. Their son Steve oversees the Barrington store.
The key to Viking's success is the wealth of products we provide and superior customer service. Viking specializes in custom boot fitting, custom footbeds, and expert tuning. We have consistently been rated as among the best ski shops in the country by the ski industry.
Over the years, many things have changed. Skis have run the gamut – from long to short to long to shaped. Skis have been made from wood, metal, fiberglass…you name it. Boots have evolved from leather and laces to high tech wonders. Clothing has gone through its own ins and outs and even survived neon. Snowboarding opened the mountains to a whole new enthusiast. And now, the new shapes revolution promises to reshape the way we ski.
Some things never change. At Viking Ski Shop, we still have the same philosophy now as we did when we started. We give our customers the best products, competitive prices and the best service! When we first opened, we just wanted to stay in business. Today, thanks to many thousands of loyal customers – some of whom are kids and grandkids of people who were with us from the start --- we're still here! Thank you all for our great fun over the past 50 years.
---
Viking Ski Shop is Chicago's most respected ski and snowboards shop with locations in Barrington and Chicago, Illinois. We offer a variety of services including tune-ups, waxing, binding installation, and repairs for skis and snowboards. Viking Ski Shop also has one of the largest inventory of skis, snowboards, boots, bindings, helmets, and clothing for men, women, and children.
Our customers are throughout Illinois including Chicago, Barrington, Western Springs, Naperville, Arlington Heights, Winnetka, Orland Park, Lake Forest, Schaumburg, Downers Grove, Oak Park, Elmhurst, Lake Zurich, Wilmette, as well as regions of Wisconsin and Indiana.