Ski Tuning
Viking ski tuning experts can do it all, from regular tune-ups to custom repairs. We use the best state-of-the-art technologies, to old fashioned hand finishing, to make sure you get the best tune for your individual needs.
Tuning your skis and snowboard is important so they will perform at their best and last for several years. Over time your skis and snowboard can become damaged and dry, and the edges will turn dull. The base and edges of skis and boards should be resurfaced to maintain performance so you will have a better experience when you hit the slopes.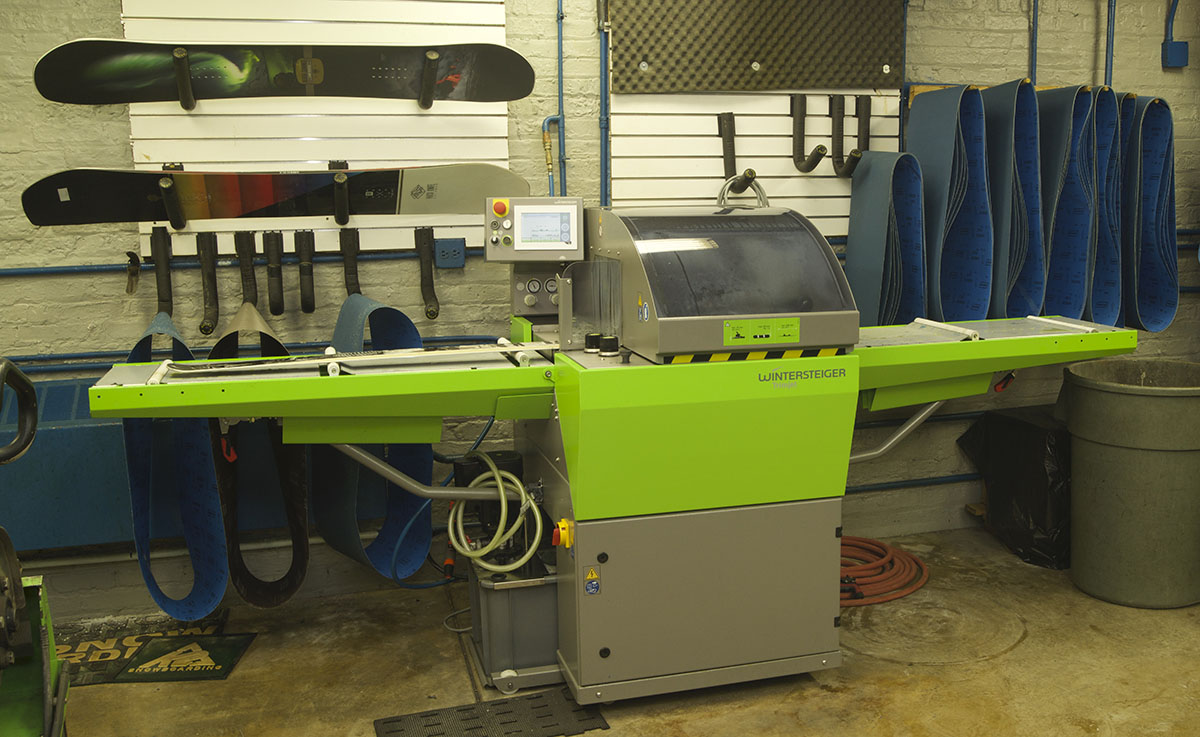 Sharpening the Edges
Before we tune your skis, our technicians will check for any base or sidewall damage and broken edges. They will fix any scrapes or gouges using a technique called welding.
Having sharpened skis is essential for your ride down the slopes. Viking technicians will sharpen your skis with precision and accuracy. A well-sharpened edge allows the ski to move smoothly prior to engaging a turn.
Ski Binding Testing
Binding manufacturers recommend that each pair of skis be calibrated with your boots at least once a year for your current height, weight, age, and skiing ability. Most binding tests are simple -- all we need is the skis, both boots, and skier information to make sure they're working to manufacturer specs using our state-of-the-art Montana Jetbound torque measurement systems.
Snowboard Tuning
Snowboard tuning and waxing are necessary for your performance. Tuning includes sharpening the edges with a file guide, waxing, and a few other things. Our file guides have an angle indicator to set the degree of the edge for different riding styles.
Freestyle riders will want rounded, smooth edges rather than making them sharper. Sharp edges can catch on rails and boxes.
Ski and Snowboard Tuning Locations
Viking Ski Shop has 2 locations in the Chicagoland region. We are located at 3422 W Fullerton Ave, Chicago, IL 60647, and in the Northwest Suburbs at 131 W Northwest Hwy, Barrington, IL 60010.
---
Viking Ski Shop is Chicago's most respected ski and snowboards shop with locations in Barrington and Chicago, Illinois. We offer a variety of services including tune-ups, waxing, binding installation, and repairs for skis and snowboards. Viking Ski Shop also has one of the largest inventory of skis, snowboards, boots, bindings, helmets, and clothing for men, women, and children.
Our customers are throughout Illinois including Chicago, Barrington, Naperville, Elk Grove Village, Lake Zurich, Oak Park, Lake Forest, Buffalo Grove, Downers Grove, Park Ridge, Elmhurst, Winnetka, Wilmette, as well as regions of Wisconsin and Indiana.